Podcast: Play in new window | Download (33.9MB)
Subscribe: Apple Podcasts | RSS
This is the premier episode of the Downton Abbey podcast with Kate and Mark.  (Spoiler alert) Third season of Downton already and it is a doozy.  Why did they kill off poor, poor Sybil?  Her baby is still alive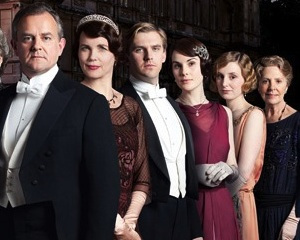 to be brought up by either servants, or her husband, who is wanted in Ireland for helping to set fire to a house.  Beside killing her off and making her suffer along the way through the entire episode, we get to see Bates getting set up in prison to get killed off (possibly) and the new servant guy (who is really cute) getting ready to kill Thomas for touching him.  Will Sybil be brought back as a ghost (no), will Bates end up getting accused of killing his cellmate (maybe), and will Thomas have his way with Jimmy (maybe).  But we definitely know that someone else is going to die by the end of the season.
Downton Abbey makes for very interesting television, so good in fact, that it could have been a mini-series movie.  The writing is great and so is the acting.  Hopefully it doesn't get killed off due to its popularity. The Colbert Report had a spoof on it that used three of the actual actors in their Downton roles.  I know that this may have seemed like a good idea at the time, but I don't think it was really a great idea to be cursing and pretending to sell an illegal substance.  Of course, it is all in good fun, but here is the link and you can decide for yourself :
There was also a Sesame Street one, but this featured the actual Sesame Street characters and was made for kids and much as their parents:
If you have never seen Downton – give it a try, you might like it.
Kate